When it comes to wedding entertainment, there are a lot of different options out there. But if you're looking for something that will make your wedding reception special, then you should consider hiring a wedding singer.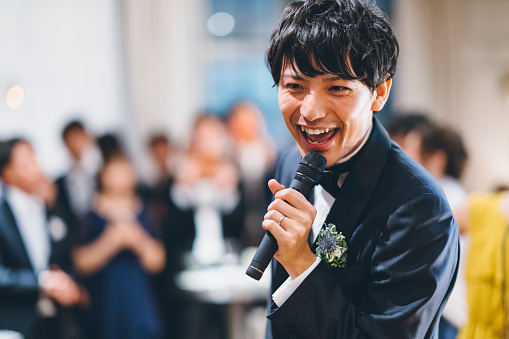 Of course, not just any singer will do. You want someone talented, professional, and who will be able to get everyone at your reception dancing and singing along.

But with so many talented singers out there, how do you choose the right one for your wedding?

Here are 11 tips on how to choose a wedding singer that will make your day even more special:
1. Decide What Type Of Music You Want.
Think about the type of music you want. Do you want someone who can sing all the latest pop hits or someone who specializes in classic crooner tunes? Perhaps you have a specific genre of music in mind, like country or rock. Whatever your musical preference, make sure you communicate this to potential singers.
2. Make A Budget.
How much are you willing to spend on a wedding singer? Keep in mind that prices can vary depending on the singer's experience, popularity, and the length of time they'll be performing at your reception. Get quotes from a few different singers before making your final decision.

Wedding singers can range in price, so it's important to consider how much you're willing to spend on this service.
3. Ask For Recommendations.
If you know anyone who has recently gotten married, ask them if they would recommend their singer. They may have some great insights that you can use when making your decision. You can also check out online reviews from past clients.
Check wedding websites.
4. Listen To Audio Samples.
Most professional wedding singers will have audio samples of their work available on their website or social media pages. Listen to a few samples to get an idea of their style and range. Or you may watch video footage. If available, take the time to watch videos of the singer performing. This will give you a good idea of their stage presence and performance style.
5. Meet In Person.
If possible, arrange to meet with the singer (or singers) you're considering before making a final decision. This will give you a chance to chat about your vision for the wedding reception and make sure you're on the same page.

Make sure to ask the singer if they are available on your wedding date. Many singers book up months in advance, so it's important to confirm their availability early on.
6. Discuss Song Requests.
One of the benefits of hiring a professional singer is that they likely have a large repertoire of songs to choose from. But if there are specific songs you want them to sing at your reception, be sure to discuss this in advance.
7. Inquire About Other Services.
Some wedding singers also offer other services, like DJing or hosting. If you're interested in these additional services, be sure to ask about pricing and availability.
8. Sign A Contract.
Once you've decided on a singer, be sure to get everything in writing via a contract. This will protect both you and the singer in case of any unforeseen issues.
9. Relax And Enjoy!
The most important thing is that you choose a wedding singer that you're happy with and that you enjoy listening to.
10. Provide Feedback.
After the wedding reception, take some time to provide feedback to the singer (either in person or via an online review). This will help them improve their services for future clients.
11. Spread The Word.
If you were happy with your wedding singer, be sure to let your friends and family know! Recommend them to other couples who are in the midst of wedding planning.
So take your time in making your decision, and don't hesitate to ask for help from family and friends. With these tips, you're sure to find the perfect singer for your big day!